We are constantly adapting to the market and as a technology company that also creates solutions based on the experience of the best CRM in the world. We participated in Dreamforce 2022, which took place between September 20 and 22 in California – USA, and our Country Manager for the United States, Paulo Henrique Ferreira, brings us some insights from the event.
The meeting gathered more than 40,000 people and discussed innovations and trends in the customer experience.
Genie arrives as a novel, real-time data platform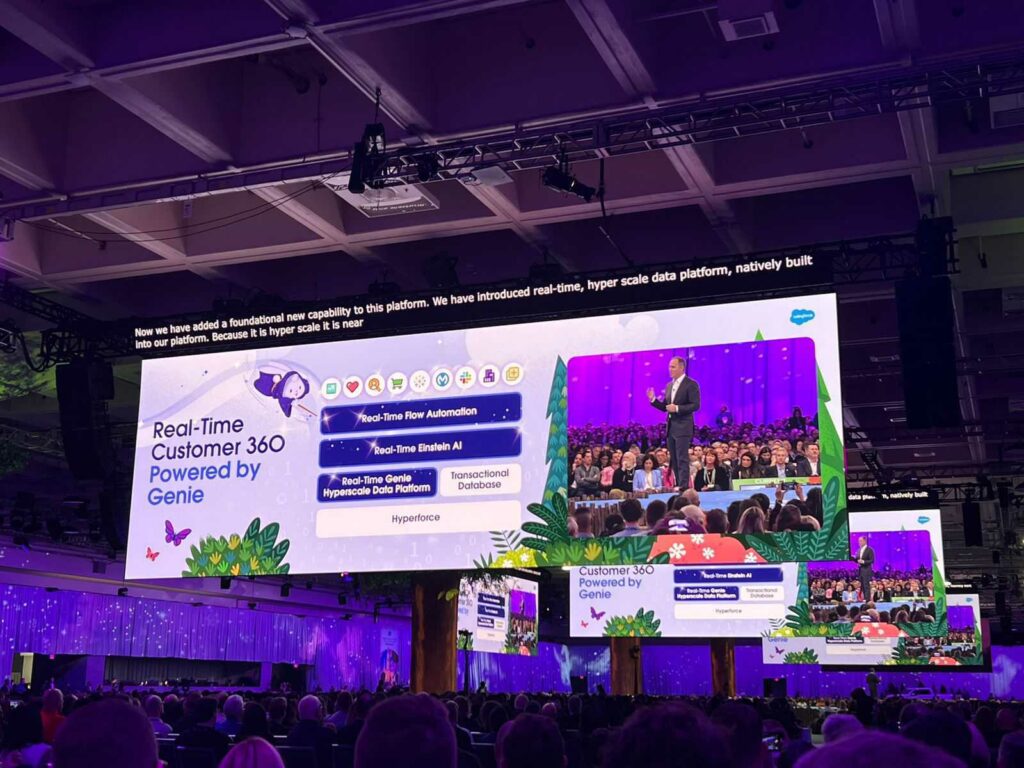 As a new way to map and have a 360° view of the customer journey through data, Genie was officially launched during the event.
Genie is Salesforce's newest venture to make their customers feel increasingly understood and welcomed by a turbo-mode experience of personalization.
With Genie, you can bring in a large volume of data from a variety of sources, due to the connectors built into the platform.
What's the point of bringing in large-scale data if it's not properly filtered, right? That's why the platform even stores and harmonizes all this data into a powerful real-time graph of your customer journey.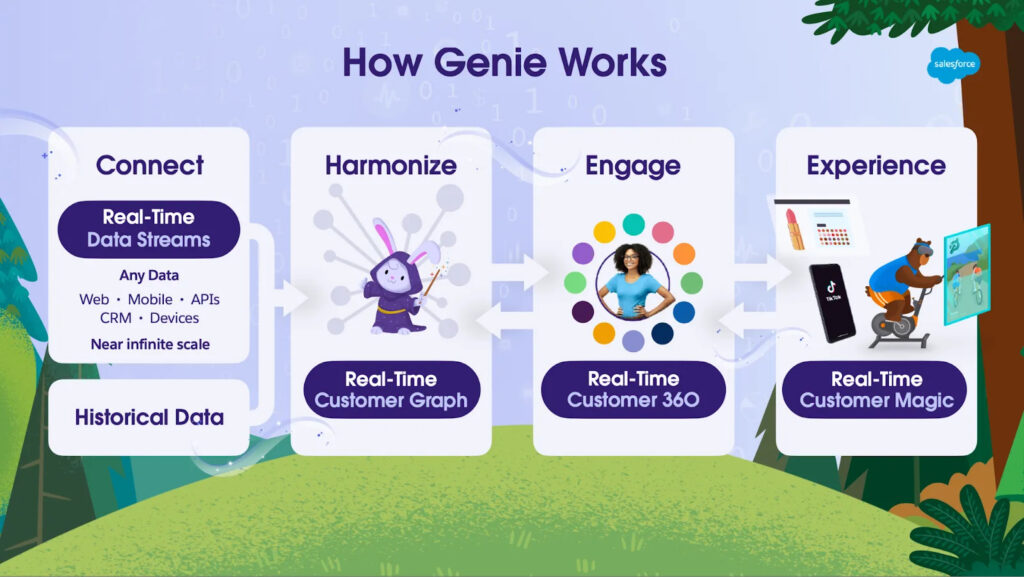 Paulo Henrique highlights: "It is with great pleasure that we work in partnership with Salesforce to deliver amazing solutions for our customers. We are already preparing to take this upgrade to Brazil and Europe.
Not even Mark Zuckenberg could resist Salesforce
On the second day of Dreamforce, we were surprised by the partnership between WhatsApp Business and Salesforce, with a Cloud API fully available for the Salesforce's customers. In a convenient way, it is now possible to have a single, shared view of all the messages sent, through a single screen.
This will ensure even more success in large enterprises' customer experience.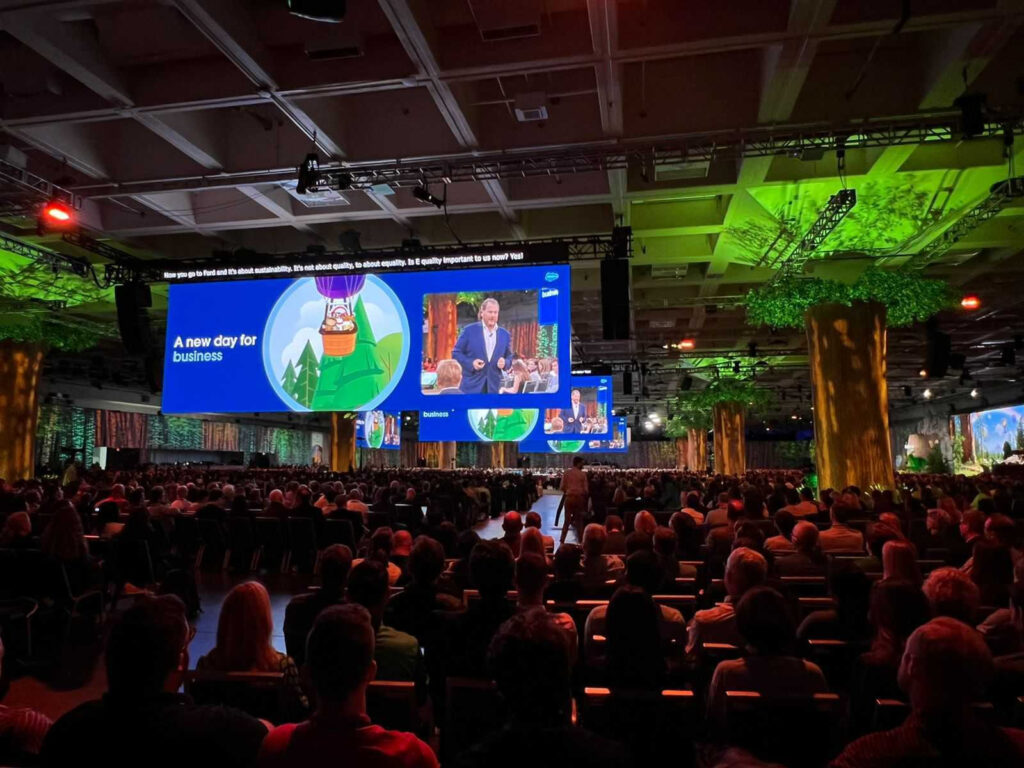 Clearly, a good day for new businesses!
This partnership is a great leap forward for the communication between customers and companies, which we are looking forward to implementing in our scope of projects as well.
In addition to this news for the technology market, Salesforce has also announced the integration with Amazon Sagemaker.
The purpose of this integration is to provide the machine learning service in combination with Einstein (Salesforce's official AI), to create different AI modalities for customers to have even more control over data and offer an increasingly unique and personalized journey to their users.
Last but not least, Slack
Targeting team productivity, Slack's CPO (Chief Product Officer), Tamar Yehoshua, announced the company's new updates.
The result is actionable data directly from Salesforce Customer 360°, multi-person screen sharing, and the infamous Slack Canvas. Now, the process of producing and sharing information will be even easier.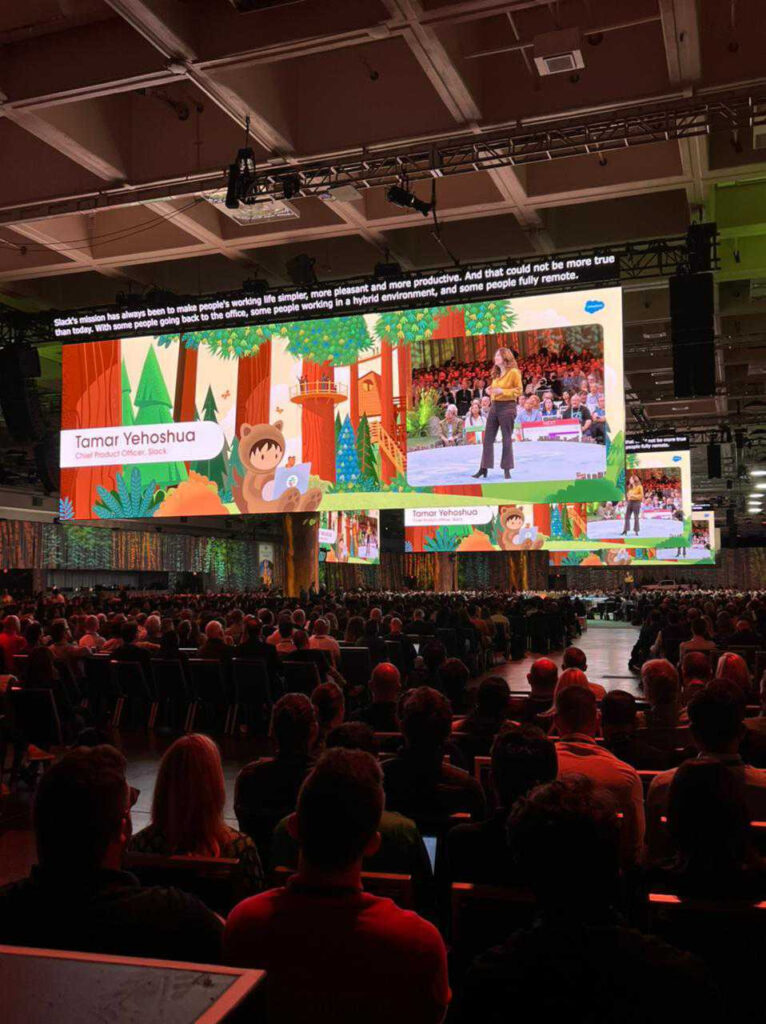 These updates directly impact our work in the design of cloud solutions, since these are technologies that require specialists in their implementation in order to be properly optimized and leveraged.
We believe that this event worked as a refresher, so that our services will continue to be aligned and up to date with the new demands of the market.
ília, with our expertise in data, AI, Design and Salesforce, allows your business to be optimized in its entirety.
Want to know more about our solutions with the Salesforce partnership? Click here and fill out our form.